rabbet.com

As the first product design hire of a YC-backed, 12-person startup, I was faced with an intial challenge of setting our foundations for success. This encompassed not only our need for a scalable design system, but also an effective product management process.


︎

A Consistent Design Core
VISUAL DESIGN


Especially when designing for users who are less acclimated to tech-heavy solutions, a clear and simple visual design language is key to generating user excitement and motivation at first touch.

Though not traditionally thought of as a part of the "design language", navigation is a vital part of the product's backbone when thinking about long-term user learning and processing speed.
---
Functional Data Tables
RESEARCH + WIREFRAMING + UI

I needed to design a way for financial admins to find, organize, and track:
billions of dollars of expenses, down to the penny, split into:
thousands of PDF invoices, legal documents, inspections, from:
hundreds of vendors from the developer > general contractors > subcontractors > inspectors > lawyers
We worked with engineers and our resident industry experts to understand and document each number, calculation, and vocabulary term displayed in our existing platform.
Then, after getting a clear idea of
what
data to display, we needed to figure out
how
to display it: flexible enough for many roles, but smart enough to beat their spreadsheets.
We went back to said spreadsheets (thank you, business school) to make sense of minute data ︎︎︎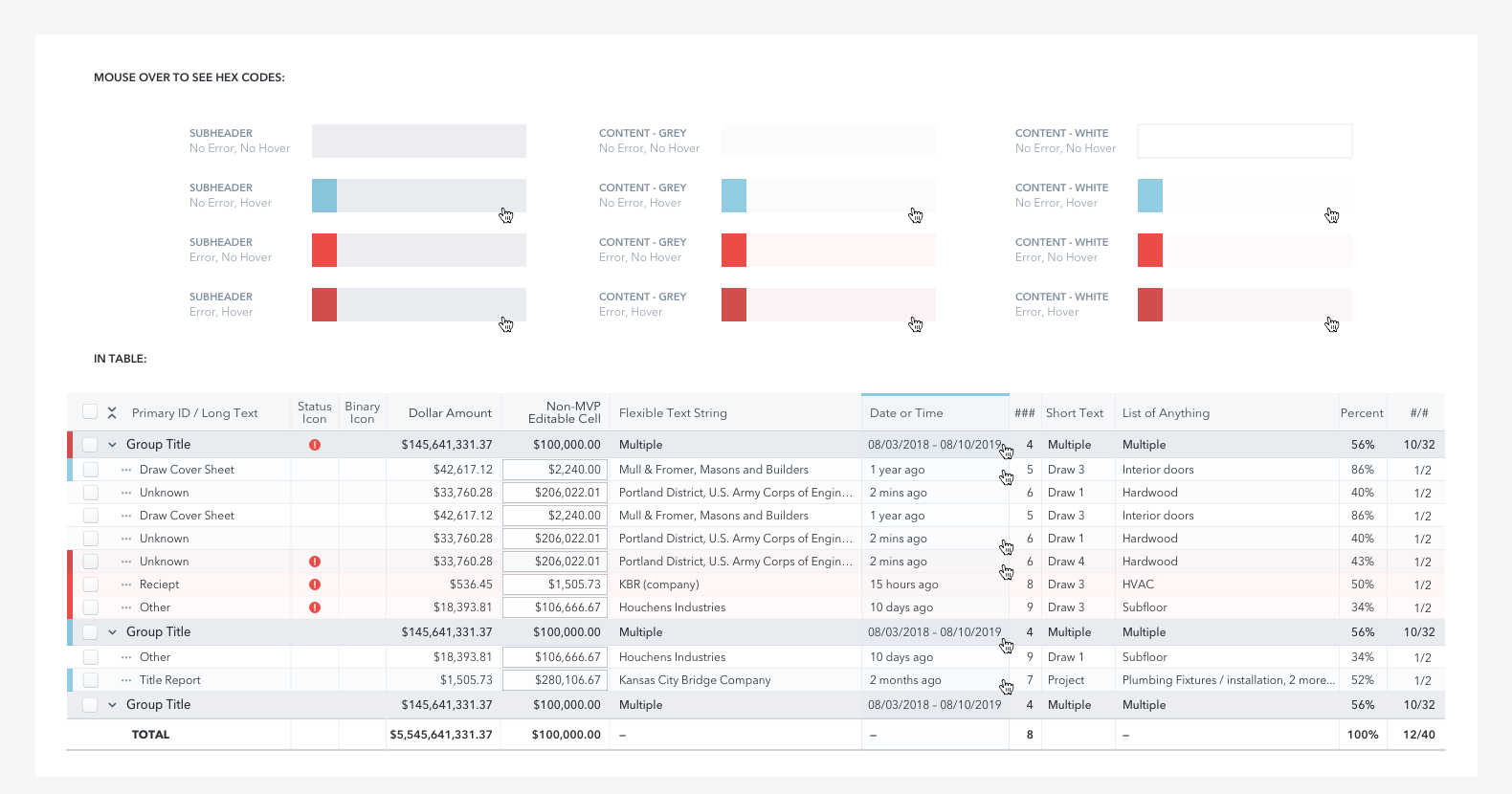 ---
Lender who had trouble finding the "x" on our Intercom integration:
"The beginning screen after logging in, is GREAT. All the info I need is there on the first screen."



︎
/ DEC 2019 / DO NOT DISTRIBUTE